Sarkari Yojana Form
(PMJAY) What is Ayushman Bharat Scheme? ABY Eligibility, Benefits and Features
Ayushman Bharat Yojana in Hindi Details | Ayushman Bharat Yojana Hospital List Check 2021 | Ayushman Bharat Yojana Registration Form pdf | Ayushman Bharat Scheme Registration CSC |Ayushman Bharat Scheme Online Apply | Ayushman Bharat Scheme Eligibility Card Download
Ayushman Bharat Yojana (ABY) (Pradhan Mantri Jan Arogya Yojana – PM-JAY) By Central Government (Modi Sarkar) 1 April 2018 was launched all over India simultaneously have a health plan Under this government scheme, 50 crore people of about 10 crore poor families (BPL holders) of the country are being provided health insurance of Rs 5 lakh.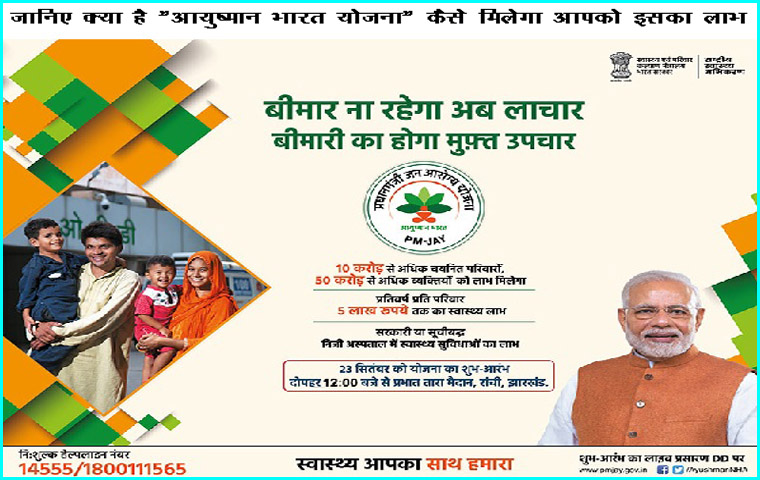 let's go Ayushman Bharat Scheme All the important information related to ayushman bharat scheme What is ? When was the scheme started? Who can take advantage of this scheme? How to register for the scheme? Eligibility for Ayushman Bharat Scheme? In which diseases it can be taken advantage of? Who will bear the cost of ABY scheme? Ayushman Bharat Scheme Eligibility List (List) ? The answers to all the questions etc. have been given for you in this article.
Know what is "Ayushman Bharat Yojana"How Will It Benefit You? Ayushman Bharat Yojana Eligibility Online Registration Full information in hindi PMJAY, AB-PMJAY, PMJAY Login, PM JAY Login, Ayushman Bharat, AYUSHMAN BHARAT – PRADHAN MANTRI JAN AROGYA YOJANA, NHA, National Health Agency, Pradhan Mantri Jan Arogya Yojana, Jan Arogya Yojana, Jan Arogya, AM I ELIGIBLE, mera pmjay, pm jay, pm-jay, ABNHPM, AB NHPM, National Health Protection Mission,ABY Scheme Eligibility & Features In Hindi ,#AyushmanBharat #PMJAY
Know what is Ayushman Bharat Scheme?
There is a popular government scheme launched for the poor people of the country in the name of Ayushman Bharat Yojana or Modicare, under this scheme health security is being provided to 10 crore BPL holders (about 50 crore people) poor families of the country. In the coming days (2019-2020) by the Modi government, plans are being made to increase the scope of this scheme and connect the rest of the people with this scheme.

Ayushman Bharat Yojana or Pradhan Mantri Jan Arogya Yojana (PMJAY) orNational Health Protection Schemeis a centrally sponsoredschemelaunched in 2018, under theAyushman Bharat Mission of MoHFW (Ministry of Health and Family Welfare) in India. which will cover over 10 crore poor and vulnerable families (approximately 50 crore beneficiaries) providing coverage upto 5 lakh rupees per family per year for secondary and tertiary care hospitalization.
Scheme Details
| | |
| --- | --- |
| full name of the scheme | Ayushman Bharat Yojana / Modicare |
| Announcement | Budget session by Finance Minister Arun Jaitley on 1st April 2018 |
| ministry | Ministry of Health and Family Welfare |
| When was the scheme started | By Prime Minister Narendra Modi on 14 April 2018 in Ranchi |
| budget amount | 2000 crores |
| present situation | working |
| official website | https://www.pmjay.gov.in/ |
| Number of beneficiary families | 10 crore families (about 50 crore people) |
Features of Ayushman Bharat Scheme | Features of Ayushman Bharat Scheme
It is the world's largest government

It is a funded health service scheme, the benefit of which is getting about 50 crore people.

Ayushman Bharat is one such scheme which aims to provide health insurance to 10 crore families.
The insurance coverage under the scheme will be Rs 5 lakh per year per family.
1,354 health packages have been included in this scheme.
Compared to Central Treatment Health Scheme Coronary bypass Major treatments like surgery, knee replacement surgery and stenting will be provided at 15% to 20% cheaper rate.
This plan is provided by Cashless and Paperless claim facility.
You can avail in government hospitals or with empaneled private hospitals.
Beneficiaries are identified on the basis of disadvantaged categories (D1, D2, D3, D4, D5 and D7).
For eligibility in urban areas, 11 occupational criteria have been prescribed.
Aadhar card is not mandatory to take advantage of the scheme.
You only have to prove your identity through Aadhaar, Voter ID or Ration Card.
Each scheme-affiliated hospital will have an "Ayushman Mitra Helpdesk", where beneficiaries can check eligibility and register for the scheme.
After getting the registration done, QR code is given to all the beneficiaries. This will help in identifying the beneficiary.
Who can take advantage of this scheme? go
Let's go to the country PM-JAY Scheme Who can avail the benefits of… Eligibility for Pradhan Mantri Awas Yojana (PMAY) under CLSS (MIG-I) Scheme. Who is eligible for PMAY ?
Must be a citizen of India.
These families have been identified as poor and deprived people (BPL holders).
The one who wants to take advantage of this scheme should not have a pucca house in the name of him or any member of his family.
The applicant must not have availed any Central / State assistance under any housing scheme of the Government of India.
Socio-economic caste census data has been used to take the benefits of Ayushman Bharat Yojana (ABY).
There is no family size or age limit for availing the benefits of PM-JAY.
In the coming time, the government is planning to expand its scope so that the rest of the country will also be able to take advantage of it.
What kind of benefits are being given from PM-JAY scheme?
Any hospital empaneled with health insurance is getting treatment without paying (cashless) in ABY.
Under the scheme, private hospitals that meet the criteria are placed in the online panel.
Under this scheme, treatment can be done in any hospital in the country.
NITI Aayog has developed an IT framework for cashless or paperless treatment for Ayushman Bharat Scheme (ABY).
In which diseases it can be taken advantage of?
Under Ayushman Bharat Yojana (ABY), health insurance of up to Rs 5 lakh per family is available every year.
Chronic diseases are also covered in Modicare (PM-JAY).
Pre and post hospitalization expenses are also being covered in case of any illness.
The expenditure on transport is also included in PM-JAY.
In case of any illness, all medical examinations/operations/treatments etc. are covered under PM-JAY.
The list of things which are outside the purview of health insurance is very short.
Ayushman Bharat Hospitals List – State/District Wise List of PMJAY
List of Hospitals under Pradhan Mantri Ayushman Bharat Yojana – If you want to know the complete list of Jan Arogya Hospitals in your state/district, then you can see its information here…
Ayushman Bharat List of Hospitals at mera.pmjay.gov.in/search
Below is the complete procedure to check Ayushman Bharat hospitals name, address and contact details in the list of empaneled hospitals for Pradhan Mantri Jan Arogya Yojana : Search for LIST OF EMPANELLED HOSPITALS Here
First official website

www.pmjay.gov.in Feather

Go.

homepage, on

"

LIST OF EMPANELLED HOSPITALS

"

click on menu

do

.

Now the hospital search page will open in front of you as shown in the image below:

Now select the state, district, type of hospital, specialty and name of the hospital and then

To see a complete list of hospitals with experience in that particular area

"

Search

" Button

click on

.
If you want to see the complete state-wise or district wise list, just select the state and district and click on the "Search" button.
In this list, PMJAY beneficiaries can check hospital type, address, e-mail id, contact number and specifications available in various hospitals.
Also read: Eligibility List Ayushman Bharat Scheme List 2021
Customer Care Helpline Toll Free Numbers For Ayushman Bharat Yojana
You can get the helpline by following three ways.
Read Also:What is One Nation One Ration Card Scheme? One Nation One Ration Card Yojana
Hope that this information about Ayushman Bharat Yojana has been helpful for you. If you have any other question related to the scheme, then you write to us in the comment box, we will definitely help you.
The post (PMJAY) What is Ayushman Bharat Scheme? ABY Eligibility, Benefits and Features appeared first on Sarkari Yojana Form.